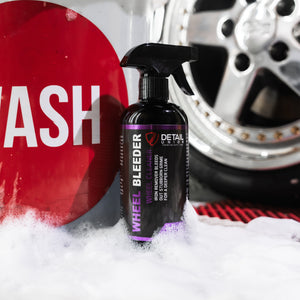 Iron remover bleeds out stubborn grime for a deeper clean.
Product Information:
The Wheel Decontaminator is a PH Balanced and Acid Free formula that is tough on stubborn grime and brake dust. We use this product EVERYTIME we wash a car. This product is safe to use on all wheels including, but not limited to, alloys, powder coat, paint and clear coat. The iron removing solution helps break up metal deposits and grease making the cleaning process significantly less intensive. This formulation is safe and environmentally friendly. 
Directions:
Do NOT apply to HOT Wheel and do not allow product to dry on the surface as this may cause staining. Thoroughly spray onto contaminated wheels completely throughout the faces and barrels. Allow 1-2 minutes for the product to react with contamination and brake dust particles by turning purple. Agitate with wheel cleaning tools and soap if necessary. Rinse THOROUGHLY.

Product Size:

473ml (16 FL OZ)