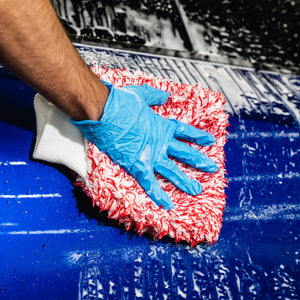 Plush microfiber wash mitt for general exterior cleaning. 
Product Information:
Making contact with your paint is one of the most harmful steps of the car care process. It is critical that this is done delicately and with extreme care. That is why it is important to only use the finest materials in order to not leave behind damage when you are simply trying to clean. These super plush wash mitts will help set you up for a successful, scratch free, wash experience. 
Variants:

Red or Blue