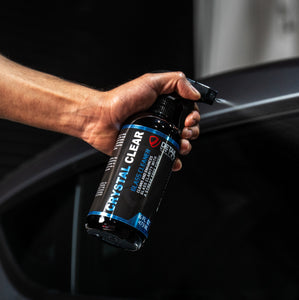 Cleans and enhances glass clarity with streak free finish.
Product Information:
Crystal Clear improves clarity by leaving a clean, streak free finish. Works great on exhaust film build up, bugs and dirt on the inside and outside of glass. Crystal Clear helps lift and release contamination while being safe to use on films and tint. Phosphate free formula for the ultimate clarity and visibility. 
Directions For Use:
Do not apply in direct sunlight or on hot surfaces. Use the 2 towel method. Apply a conservative amount to a clean microfiber towel and thoroughly spread on glass and remove contamination. Proceed to use a waffle weave towel to buff away any streaks and haziness. Safe to use on tint.
Product Size:
473ml (16 FL OZ)